Fill the Funnel and Pray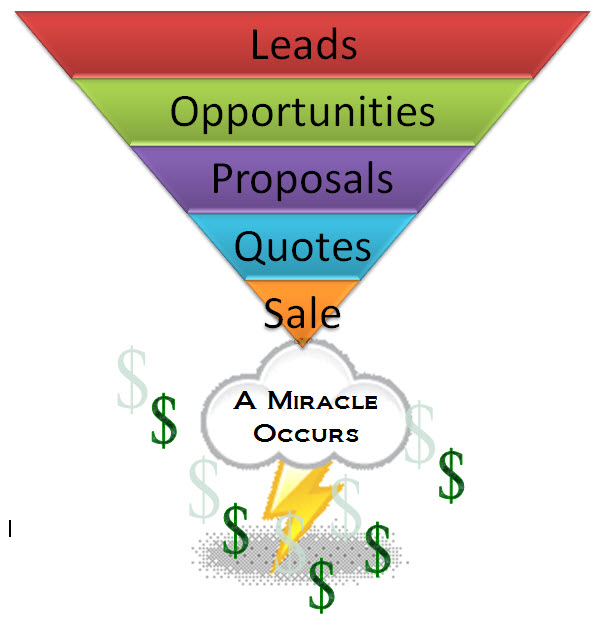 "Opportunity is missed by many people because it is dressed in overalls and looks like work."
-- Thomas Edison
Have you ever noticed that every picture of the sales funnel stops with the sale? It as if everything that happens after your customer places an order occurs in a section of the funnel labeled "then a miracle occurs."
Filling the sales funnel and praying that everything goes OK is not much of a formula for growth. There are many reasons that business growth fails, but the key failure for any business is disappointing the expectations that were so laboriously built up during the sale.
With Kurt B. Carr's help, Infor's Visual Enterprise ERP system can be a powerful tool for managing the miracle section of your funnel. Growth happens because you make a commitment to grow. To be sure, part of that growth occurs when you commit to ramping up your sales effort. But the follow through is what ensures that you are hitting homeruns and not just high pop flies.
I have years of experience in helping companies execute the promise of their sales funnel. Using Visual Enterprise as one of many tools for success, I can help you organize your team for success. I do this by helping them work through the issues the growth creates and developing systems for handling the success of your sales efforts.
I offer on going Visual Enterprise assistance that will help your company take the miracles out of your funnel.
I am Kurt B. Carr and I have years of experience in teaching companies how to use Visual Enterprise as a tool to operate effectively and achieve success. Call (941.776.3830) or email me today to take the prayer sessions out of your fulfillment process.
I can help...