In Visual we Trust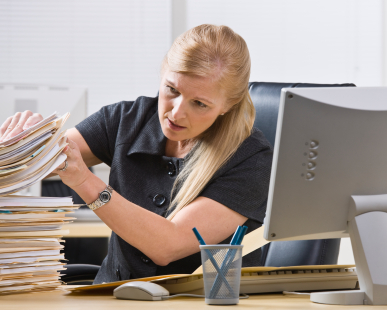 Is the information in your Visual system trusted? An easy way to answer that question is to take the Typewriter Test.
Many companies that use Visual have implemented it as an expensive, fancy typewriter. It is used as to generate paper records which are stored and used in exactly the same way that they were before Visual came along. Companies that work in this mode squander most of the advantages that can come from implementing Visual Enterprise.
"You can't trust water: Even a straight stick turns crooked in it."
-- W.C. Fields
So how do you know if your company is working in Typewriter Mode? By taking the Typewriter Test, of course. The Typewriter Test works like this. Take a walk through your offices and shop floor. Ask key employees questions about current orders and observe how they go about getting the answer. If the first place that most of them look is a paper file or spreadsheet your company has failed the Typewriter Test.
In a company that has correctly integrated Visual Enterprise into its daily operations; the vast majority of the information that is knowable about orders will be available by looking in Visual. When it isn't, that is a pretty good indication that no one trusts the data that is stored in your Visual Enterprise system.
Getting good data into Visual is an essential prerequisite to taking good information out. If your people don't trust the data in Visual, neither should you.
I am Kurt B. Carr and I have years of experience in teaching companies how to use Visual Enterprise as a tool to operate effectively and achieve success. Call (941.776.3830) or email me today to figure out the key to fixing your Typewriter Mode problem.
I can help...
Consulting
Training
Assessments